 
Blossom No. 1 GS
Modern GS ski for the most-demanding racers and experts
N° 1 GS
If you are a competitive racer or expert skier who loves carving arcs on hard snow, the Blossom N° 1 GS ski is a fantastic choice!
Part of Blossom's Numero Uno Collection, this hand-built ski combines race construction with a modern, race-oriented sidecut (114-69-99) that is designed to provide racers and expert skiers with the ultimate in carving performance on the course and groomed terrain and is ideal for the skier who loves skiing fast and carving medium to long-radius turns.
Like all Blossoms, the ski is built with premium materials featuring:
Full-length wood-core, sandwich construction
Fiberglass layers
2 Titanal layers
ABS sidewalls
High-quality racing base
The ski is available the following lengths: 166 cm, 173 cm, 178 and 183 cm.
Full speed ahead!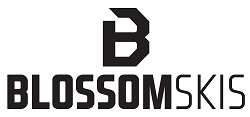 RECOMMENDED BINDINGS
Recreational racers and experts need a binding that offers the ultimate in retention and performance. These two bindings are both great choices: VIST Speedlock Intra Plate | V614 Binding and the VIST Speedlock Pro Light | V614 Binding.
If you want a system with a higher level of retention, we can provide you with other VIST plate and binding systems that will meet your requirements. Just ask!
WHO SHOULD BUY THIS SKI?
Obviously, this ski is designed for handling the hard snow conditions you'll find on the race course. As such, it is a great choice for ski racers, especially those racers who want a ski designed for competition, yet don't need to meet FIS requirements. The ski has tremendous power and grip, and will go as fast as you like.
It's a great choice for Masters racers and expert skiers who love to make long-radius turns on the harder snow conditions.