 
Blossom No. 1 Lady
Women's ski designed for carving and all mountain skiing
N° 1 Lady
If you are a woman who is looking for a high-performance carving ski, the Blossom N° 1 Lady is the perfect ski for you!
Part of Blossom's Numero Uno Collection, this is a ski designed specifically for women skiers, combining race ski construction with a narrower, carve oriented sidecut (123-67-104) and a slightly narrow Titanal layer that will provide the ultimate in carving performance. With exceptional grip, and stability, this ski will handle hard snow, and has the versatility and slightly softer flex that will let you to ski bumps and softer snow all day long.
Like all Blossoms, the ski is built with premium materials featuring:
Full-length wood-core, sandwich construction
Fiberglass layers
Titanal
ABS radical sidewall
High-quality racing base
The ski is available the following lengths: 145 cm, 153 cm, 159 and 165 cm.
Women skiers rock!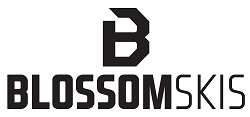 WHO SHOULD BUY THIS SKI?
Very few carving skis are designed specifically for women, and often don't come in dimensions or lengths that can give them the right platform to excel. In a word, these skis do! Between the slightly narrower waist and slightly thinner Titanal layer, this ski is perfect for those women skiers who want to feel the exhilaration of the carved turn on groomed terrain.
It's your turn!