 
Blossom No. 1 RC
Ski for advanced skiers looking for carving performance with all mountain capability
N° 1 RC
If you are a skier who loves to carve at high speed on a ski with GS race-bred performance, the Blossom N° 1 RC is the ideal ski for you!
Part of Blossom's Numero Uno Collection, this hand-built ski combines race ski construction with a modern, carve oriented sidecut (121-71-106) that is designed to provide skiers with the ultimate in carving performance and excels when making medium to longer-radius turns. With exceptional grip, and stability, this ski will handle hard snow, blast through crud, and yet has the versatility and slightly softer flex that will let you to ski bumps and softer snow and ski all day long.
Like all Blossoms, the ski is built with premium materials featuring:
Full-length wood-core, sandwich construction
Fiberglass layers
Titanal
ABS radical sidewall
High-quality racing base
The ski is available the following lengths: 145 cm, 151 cm, 158 cm, 164 cm, 170 cm, 176 and 181 cm.
With this ski, you'll be ready fly!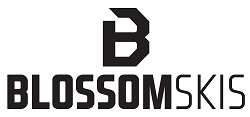 WHO SHOULD BUY THIS SKI?
Simply put, this ski is ideal for advanced to expert skiers who want GS-type performance and prefer making medium to long-radius turns at speed, but don't need a full on racing ski. It's ideal in harder snow, and will bust through crud like nobody's business.
This ski is a blast!