 
Blossom White Out
All mountain ski with early rise for outstanding all terrain performance
White Out
If you are a skier who loves to ski the entire mountain and looking for the ideal do anything, go anywhere ski, the Blossom White Out is the perfect one-ski quiver!
Part of Blossom's Turbo Collection, this hand-built ski has the ideal dimensions for all mountain skiing combined with a slight early rise in the tip that will let you make turns of any shape in all terrain and snow conditions. With dimensions of 131-77-111 (170 cm length produces a turn radius of 14 meters) and featuring a wood-core sandwich construction and superior materials, this ski offers an unparalleled combination of quickness, stability, versatility and performance that will leave you with a big smile on your face.
Like all Blossoms, the ski is built with premium materials featuring:
Full-length wood-core, sandwich construction
Fiberglass layers
Titanal
ABS radical sidewall
High-quality racing base
The ski is available the following lengths: 158 cm, 164 cm, 170 cm, 176 and 182 cm.
With this ski, you'll be ready for any skiing adventure!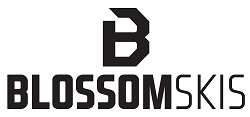 WHO SHOULD BUY THIS SKI?
Blossom's most popular ski here in North America, this ski is suited for almost any skier. It can make any turn shape you might want, and handle any snow conditions. For East Coast skiers, this ski is ideal for all conditions and is the perfect one-ski quiver. For those skiers on the West Coast, you should consider this ski if you like carving as much as you like skiing off piste, as this ski has the grip and solid feel you would expect from a carving ski, yet will handle bumps and off piste conditions with ease.
We love it!