 
VIST Speedlock Pro Superlight Plate | VPM412 Binding System
High performance binding for expert and advanced skiers
SPEEDLOCK PRO SUPERLIGHT PLATE | VPM412 BINDING SYSTEM

The versatile VIST Speedlock Pro Superlight Plate binding system is ideal for the advanced and expert skier looking for maximum hold and control. The Speedlock Pro Light plate is 16 mm in height, providing additional power and edge grip, while the VPM412 bindings provides superior retention and control. Further the Speedlock feature allows you to easily modify binding placement to accommodate different boot sole lengths and boot placement on the ski.
Binding details are as follows: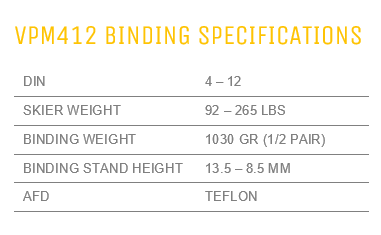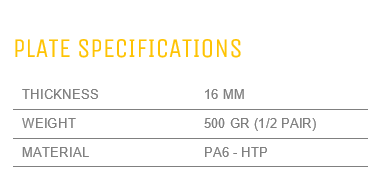 The Speedlock Superlight binding system provides a fantastic combination of power and retention suitable for any high-performance carving and all mountain skis.
Custom Orders: The VIST Speedlock Pro Superlight plate can be combined with other bindings should you prefer a system with higher (or lower) DIN settings. For information on placing a special binding order, click here.